Why Your Church Needs a Website
Do you want to bring your church into the digital age? If your church does not yet have a website, then it is time to consider getting one. A website can help your church in many ways, from outreach and communication to fundraising and engagement. Not convinced? Here are some reasons why your church needs a website:
1. Reach More People
With a website, your church can reach out to people who may not have otherwise known about your church. A website can provide information about your church, including worship service times, contact information and upcoming events, making it easier for people to find you. According to a study by the Pew Research Center, nearly 85% of adults use the internet, with 65% of adults using social media. This means that without a website, you may be missing out on a lot of potential attendees.
Another advantage of having a website is that it provides a platform for your church to share its message and values. Your website can feature your church's mission and beliefs, as well as stories and testimonials from members. You can also use your website to publish sermons and other church content, so that visitors can get a taste of what your church is all about.
2. Improve Communication
Communication is key when it comes to running a successful church, and a website can help facilitate communication in a number of ways. For starters, a website can serve as a centralized hub for church news and updates, making it easier for members to stay up-to-date. You can use your website to post regular newsletters, bulletins and other updates, so that members can access them from anywhere, at any time.
Your website can also help you communicate with visitors and prospective members, with an easy-to-use contact form or email link. This makes it simple for newcomers to ask questions or request more information about your church. Additionally, having a website can help your church maintain a professional image, which can be critical for attracting new members and community partners.
3. Fundraising and Engagement
Lastly, a website can help your church raise funds and engage members in new and exciting ways. By adding a donation page or an online giving platform, you can make it easier for members to donate to your church, from anywhere, at any time. Additionally, you can use your website to advertise fundraising events or other community events, such as volunteer opportunities or youth group meetings.
Another way to increase engagement is to use your website to create an online community, that is accessible to all members, regardless of location or circumstance. You can use your website to create forums or chat rooms, where members can interact and connect with each other. This is particularly useful for members who cannot attend services in person or who may live far away from the church, but still want to feel connected to the community.
Overall, a website is a powerful tool that your church can use to engage with its members and the surrounding community. Whether you are looking to reach more people, improve communication, or raise funds, a website can help you achieve your goals. So why wait? Get started on creating a website for your church today!
The Benefits of Web Hosting for Churches
Web hosting has revolutionized how churches communicate, reach out to their congregations, and carry out their daily activities. Churches in the past had limited choices in reaching out and connecting with their members who lived far away. However, with the internet and web hosting, reaching out to members of the church has never been easier. Regardless of the size of the church, web hosting provides numerous benefits that facilitate communication and efficient operation of activities. Here's how:
Enhanced Communication
Web hosting creates an online presence for the church. Members can easily access information such as events, sermons, and programs which facilitates communication. Through the church's website, members can access the church's calendar, music downloads, ministries, and recent happenings. Moreover, through the creation of online platforms such as email newsletters and social media accounts, churches can easily post church activities and events that members can attend. Online communication capabilities have proven effective in increasing attendance and impacting lives. Additionally, an online platform facilitates communication between members that live far away. Members can easily interact and chat through the church's website or social media platforms.
Another way that web hosting enhances communication in churches is through email. Churches can easily send out event updates, reminders and even inspirations through emails. They are also very effective in passing urgent messages such as the cancelation of services due to bad weather. Churches can maintain a healthy relationship with members through regular email communication.
In conclusion, web hosting enhances communication in churches, promotes attendance and promotes growth. It provides an avenue to reach out to members that live far away, keeps members up-to-date with current events while creating an avenue for online chats and interactions.
For a comprehensive range of hosting services, choose a hosting services provider. They offer different types of hosting solutions depending on your needs.
Features to Look for in a Church Web Host

Source weknowyourdreams.com
When it comes to hosting a website for your church, there are many features to consider before making a decision. A church website should be engaging, welcoming, and functional. Below are some important features to look for in a church web host:
Reliability and Uptime

Source forums.evga.com
One of the most important features to consider when choosing a web host for your church website is reliability and uptime. No one wants their website to be constantly down or slow to load. When choosing a web host, one should look for a company with a proven track record for reliability and uptime.
While no web host can guarantee 100% uptime, one should look for a host that provides at least 99% uptime. A good host should have robust servers that can handle significant amounts of traffic without slowing down. It's also essential to have a host that provides automatic backups in the event of a technical issue.
Security

Source www.istockphoto.com
Another important feature to consider when choosing a web host for your church website is security. A church website often contains sensitive information such as personal information, fundraising information, or even sermon transcripts. A secure website host will help protect your website from hacks, malware, and other cyber threats that could compromise your church's sensitive information.
When looking for a secure website host, one should consider a host that provides SSL (Secure Socket Layer) and/or TLS (Transport Layer Security) certificates. These security certificates are essential for encrypting sensitive data transmitted between the website and the server. Hosts that use firewalls and spam protection can also help keep your church's website safe from cyber threats.
Technical Support

Source innov8tiv.com
Technical support is essential when it comes to hosting a church website. Technical issues can arise at any time, and it's essential to have a reliable support team that can help resolve any issues quickly.
When choosing a web host, one should look for a company that provides 24/7 technical support. A host that offers multiple support channels such as phone, email, or live chat can be a helpful feature. It's also important to consider the quality of technical support. A good host should have a team of experienced and knowledgeable technicians who can handle a broad range of technical issues quickly and efficiently.
In conclusion, when looking for a web host for your church website, one should consider reliability and uptime, security, and technical support. These features are essential in ensuring that your website is accessible, secure, and functional. By taking the time to research web hosts and compare features, you can find a reliable host that meets your church's needs.
If your church website has a large amount of traffic or requires more resources, consider cloud hosting. This option allows for scalability and flexibility.
Recommended Church Web Hosting Providers
Churches and religious organizations often require a reliable hosting solution that can accomplish their online goals. These web hosting providers not only guarantee fast and secure performance but also offer affordable pricing plans that fit any church budget. Here are the top four recommended church web hosting providers:
1. InMotion Hosting


Source www.hostingclues.com
With more than 150,000 happy customers, InMotion Hosting has been a top-ranked web hosting provider since 2001. They offer different hosting options that include shared, VPS, dedicated, and WordPress hosting, making them the ideal choice for small and large churches alike. InMotion Hosting provides free backups, a 99.99% uptime guarantee, and a 24/7 US-based technical support team. Their pricing plans start from $6.99/month, and users can choose between Linux or Windows hosting. The company provides free website transfers for new account holders, making switching to InMotion Hosting a breeze.
2. Bluehost

Source www.youtube.com
Bluehost hosts over two million websites worldwide and is also an official WordPress hosting provider. They offer shared, VPS, dedicated, and WordPress hosting, making them a versatile option for churches that have unique hosting needs. One of Bluehost's best features is their one-click WordPress installation, which simplifies the process of creating a website. The company offers a free domain name for the first year, 24/7 customer support, and a 30-day money-back guarantee. Their pricing plans start from $3.95/month, an affordable option for small and medium-sized churches.
3. HostGator

Source mahbubosmane.com
HostGator has been providing reliable web hosting services since 2002 and hosts more than two million websites. They offer a variety of hosting options such as shared, VPS, and dedicated hosting. HostGator's shared hosting plans come with free website transfers, cPanel control panel, and a 99.9% uptime guarantee. The company offers 24/7 customer support via phone, email, and live chat. HostGator's pricing plans start from $2.75/month, making it an affordable solution for small churches looking to establish their online presence.
4. SiteGround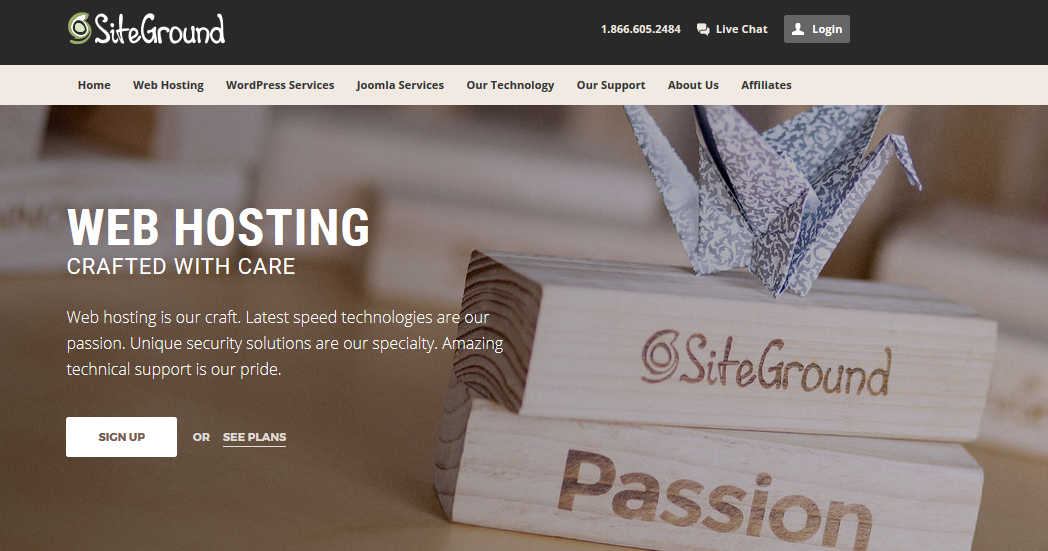 Source mythemeshop.com
SiteGround is a popular hosting provider that specializes in WordPress hosting. Churches looking to establish a blogging or news website can benefit from SiteGround's hosting options. SiteGround offers free website transfers, 24/7 customer support, and a 30-day money-back guarantee. Their hosting plans include shared, cloud, VPS, and dedicated hosting, allowing users to choose a plan that fits their needs. SiteGround's pricing plans start from $3.95/month, making them an affordable option for small and medium-sized churches.
In conclusion, selecting the right church web hosting provider is critical for ensuring that your website performs well and meets your user's online needs. These web hosting providers offer different hosting options suitable for small and large churches on different budgets. Choosing a reliable and trustworthy web hosting service will guarantee that your website is up-to-date, fast, and secure for years to come.
For churches looking for an affordable option, check out this best low price web hosting provider. They offer reliable services at a budget-friendly price.
How to Build a Church Website on Your Web Host

Source churchthemes.com
If you're planning to build a website for your church or religious organization, web hosting is a term you're likely to come across. Web hosting provides you with the space and tools you need to create and publish your website on the internet. In this article, we'll discuss the steps required to build a church website on your web host.
Choosing a Web Host

Source techreen.com
The first step in building your church website is choosing an appropriate web host. While there are several factors you may consider before selecting one, it's important to choose a hosting provider that delivers a reliable service, offers good customer support, and has a track record of uptime. Additionally, the hosting provider should offer ample storage and bandwidth to support your website, especially if you plan to upload audio or video content. Some hosting providers specialize in church websites, so be sure to do your research to ensure you're choosing the right one.
Registering a Domain Name
Once you've selected a web host, the next step is to register a domain name. A domain name is the name that visitors will use to access your website on the internet. It's important to choose a domain name that's relevant to your church's name or mission. You can register a domain name directly with your web host, or through a third-party service like GoDaddy.
Setting Up WordPress
After you've registered your domain name, you'll need to install a content management system (CMS) on your web host. WordPress is a popular choice for building church websites because it's easy to use, and there are plenty of free and premium themes available to customize the design of your website. Most web hosts provide a one-click installation of WordPress, allowing you to set up your website quickly and easily.
Choosing a Theme and Customizing Your Site

Source homeschoolplanet.com
Once you've set up WordPress, the next step is to choose a theme and customize your site. WordPress has a vast library of themes that you can use to customize the look and feel of your website. Most themes are customizable, allowing you to change colors, fonts, and layout. Additionally, you can install plugins to add advanced features like event calendars, online giving, and podcasting. It's important to choose a theme that reflects your church's identity and mission.
Conclusion

Source www.youtube.com
Building a church website on your web host requires some planning and effort, but it doesn't have to be difficult. By choosing a reliable web host, registering a domain name, setting up WordPress, and customizing your site, you can create a professional and engaging website for your church. Remember to keep your website's design simple and user-friendly, and to update your content regularly to keep visitors engaged. With the right tools and resources, your church website can be a valuable tool for spreading your message and connecting with your community.